---
---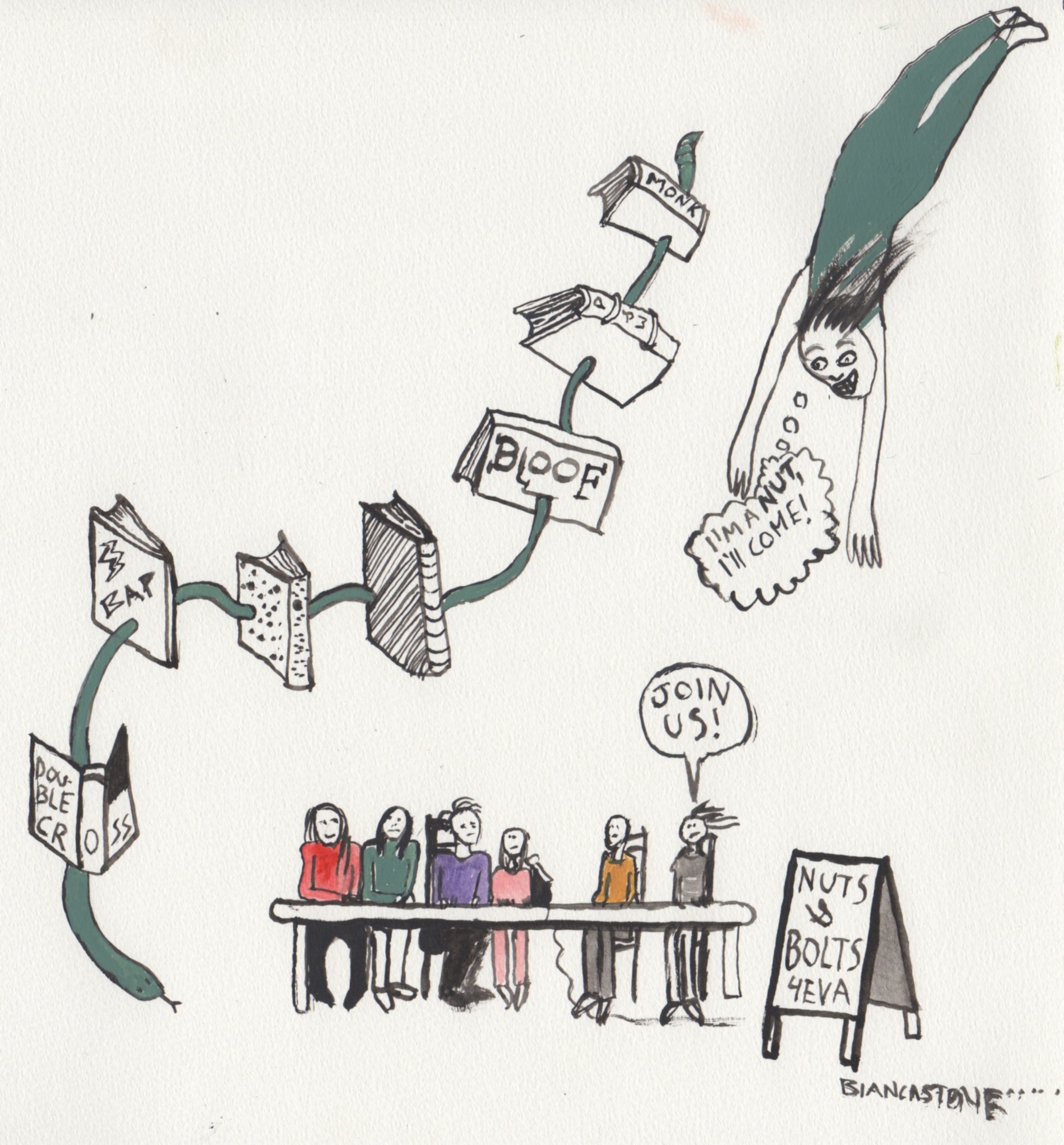 Thursday, April 2, 11AM
C-Level, The Graduate Center, CUNY
Melissa Faliveno, associate editor of Poets & Writers Magazine, talks with chapbook publishers and authors to discuss the collaborative publishing process, innovative forms and expanding genres, and how to get your work into print. Featuring Shanna Compton and Jackie Clark of Bloof Books, Joe Pan and Dominique Townsend of Brooklyn Arts Press, Bianca Stone and Alina Gregorian of Monk Books, Emily Skillings and Emily Brandt of No, Dear, and MC Hyland and JenMarie Macdonald of DoubleCross Press.
Participant Bios
Emily Brandt is the author of two chapbooks: ManWorld (dancing girl press) and Behind Teeth (Full Court Books). Her poems have appeared in Sink Review, Coconut, H_NGM_N, The Atlas Review, Epiphany, and others. She earned her MFA from New York University where she facilitated the Veterans Writing Workshop. She has been in residence at Saltonstall Arts Colony (NY) and Elsewhere (NC). Emily is a co-founding editor of No, Dear magazine, the Web Acquisitions Editor for VIDA, and she teaches in Brooklyn.
Jackie Clark is the author of Aphoria (Brooklyn Arts Press) and the chapbooks Sympathetic Nervous System (Bloof), Red Fortress (H_NGM_N), Office Work (Greying Ghost Press), and I Live Here Now (Lame House Press). She is the series editor of Poets off Poetry and Song of the Week for Coldfront Magazine, and can be found online at nohelpforthat.com.
Shanna Compton's books include Brink, For Girls & Others, Down Spooky, Gamers, and several chapbooks. A book-length speculative poem called The Hazard Cycle is forthcoming. She is the founder, editor, and designer of Bloof Books, a collective micropress publishing new poetry in both handmade and paperback editions.
Alina Gregorian is the author of Flying Bark (Coconut Books, 2016) and the chapbooks Navigational Clouds (Monk Books, 2015) and Flags for Adjectives(DIEZ, 2015). She curates Triptych Readings, runs a video poetry series on the Huffington Post, and teaches at Rutgers University. She lives in Brooklyn.
Melissa Faliveno is the associate editor of Poets & Writers Magazine. She received an MFA from Sarah Lawrence College and has worked as an editor for a large trade publisher, a small press, and various literary magazines. Her work has appeared or is forthcoming in DIAGRAM, Green Mountains Review, Isthmus, Lumina, and in the book Derby Life: Stories, Advice & Wisdom from the Roller Derby World (Gutpunch Press, 2015).
MC Hyland holds MFAs in Poetry and Book Arts from the University of Alabama and is currently working toward a PhD in English Literature at New York University. She is the author of several poetry chapbooks and the poetry collection Neveragainland (Lowbrow Press) and the founding editor of DoubleCross Press, as well as a Printshop Steward at the Center for Book Arts. Her current academic research focuses on the figure of "the commons" as a representation of spatial and intellectual property in Romantic and postmodern poetry.
JenMarie Macdonald is a writer and bookmaker living near Philadelphia. She's the author of Sometime Soon Ago (Shadow Mountain) and a forthcoming chapbook from DoubleCross Press in their Poetics of the Handmade series. She has collaborated with Travis Macdonald on chapbooks Graceries (Horse Less Press) and forthcoming Bigger On the Inside (ixnay press) as well as their press Fact-Simile Editions.
Joe Pan is the author of two poetry collections, Autobiomythography & Gallery (BAP) and Hiccups, or Autobiomythography II (Augury Books). He is the publisher and managing editor of Brooklyn Arts Press, serves as the poetry editor for the arts magazine Hyperallergic, and is the founder of the services-oriented activist group Brooklyn Artists Helping. His piece "Ode to the MQ-9 Reaper," a hybrid work about drones, was excerpted and praised in The New York Times. In 2015 Joe will participate in Lower Manhattan Cultural Council's Process Space artist residency program on Governors Island. Joe attended the Iowa Writers' Workshop, grew up along the Space Coast of Florida, and now lives in Williamsburg, Brooklyn.
Emily Skillings is a dancer poet/ poet dancer. She is the author of two chapbooks: Backchannel (Poor Claudia) and Linnaeus: The 26 Sexual Practices of Plants (No, Dear/ Small Anchor Press). Recent poems can be found in the Phantom Limb, Philadelphia Review of Books, Stonecutter, Maggy, Elderly, Bone Bouquet, Big Lucks and Poor Claudia :: Crush. Skillings dances for The Commons Choir (Daria Faïn and Robert Kocik) and presents her own choreography in New York. She lives in Brooklyn, where she is a member of the Belladonna* Collaborative, a feminist poetry collective and event series. With poet Adam Fitzgerald, she recently co-curated the exhibit "John Ashbery Collects: Poet Among Things" at Loretta Howard Gallery. She is an MFA candidate at Columbia University.
Bianca Stone is a poet and visual artist. Her books include the poetry collection Someone Else's Wedding Vows (Tin House/Octopus Books 2014), and Antigonick, a hybrid collaboration with Anne Carson (New Directions 2012). She is co-founder and editor of the press Monk Books, and she runs the Ruth Stone Foundation in Vermont and Brooklyn.
Dominique Townsend has a Masters from Harvard Divinity School and a PhD from Columbia University in Buddhist Studies. Her debut book of poetry The Weather & Our Tempers was published in 2013 by Brooklyn Arts Press. Dominique currently works at the Rubin Museum of Art as Head of Interpretation. Her first children's book, an adaptation of an 8th century Buddhist classic, will be released in July 2015. She is currently working on her second book of poems.
---
---