---
---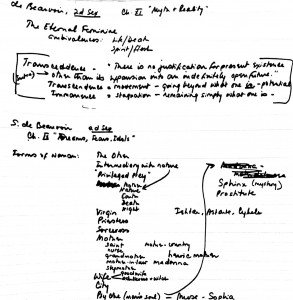 Thursday, April 2, 4:30PM
C-Level, The Graduate Center, CUNY
The Graduate Center has a long history of harboring educators, administrators, and activists who double as poets and publishers. In "Teaching Language in Open Admissions," Adrienne Rich writes: "I think of myself as a teacher of language: that is, as someone for whom language has implied freedom, who is trying to aid others to free themselves through the written word, and above all through learning to write it themselves." Please join poets and scholars Iris Cushing, Tonya Foster, Maryam Parhizkar, Anna Moschovakis, Sara Jane Stoner, and Simone White as they discuss their experience of working by, through, alongside, because of, and in spite of academic mandates in order to pursue creative projects, publish innovative texts, and establish an longview writerly community outside its architecture.
Participant Bios
Iris Cushing is the author of Wyoming (Furniture Press Books, 2014). In 2011, Iris was a writer-in-residence at Grand Canyon National Park in Arizona, her former home. She has also received fellowships from the National Endowment for the Arts and the Lower Manhattan Cultural Council. Her poems have appeared or are forthcoming in Fence, the Boston Review and the Barrelhouse, and her critical writings on art and literature can be found on Hyperallergic, Jacket2 and the Poetry Project Newsletter. Iris is a founding editor for Argos Books, an independent poetry press, and currently studies mysticism and counterculture in postwar American poetry in the English Ph.D. program at the CUNY Graduate Center.
Tonya M. Foster is a New Orleaninan living in Harlem, NY. A co-editor of Third Mind: Teaching Writing through Visual Art, her first full-length collection of poetry, Swarm of Bees in High Court is forthcoming from Belladonna*. She is a recipient of fellowships from NYFA, Macdowell, the Mellon Foundation, the Ford Foundation, and The Graduate Center, CUNY where she is enrolled as a PhD student in English.
Maryam Parhizkar is an MA candidate in the Liberal Studies Program at the CUNY Graduate Center, concentrating in American Studies. Her current interests explore the ways in which experimentation in American music is informed by poetics, performance practices, racial experience and politics. Also a poet and violist by musical training, by day she manages concerts for the series Music Before 1800 and publications for Litmus Press.
Anna Moschovakis is the author of two books of poems, I Have Not Been Able to Get Through to Everyone and You and Three Others Are Approaching a Lake, and several chapbooks. Her translations from the French include texts by Henri Michaux, Claude Cahun, Theophile Gauthier, Pierre Alféri, and Blaise Cendrars, as well as the books The Jokers by Albert Cossery, The Possession by Annie Ernaux, and The Engagement by Georges Simenon. Currently a freelance editor and a visiting professor in the Writing department at Pratt Institute, she has been working with Ugly Duckling Presse since 2002 as an editor, designer, administrator, and printer.,
Sara Jane Stoner is a writer, performer, and teacher at Brooklyn College and The Cooper Union. She has an MFA in Fiction from Indiana University and is currently a PhD student in English at CUNY Graduate Center. Her writing and criticism can be found in DIAGRAM and the St. Mark's Poetry Project newsletter, among other places. Currently she is working on a book of ekphrastic fictions based on the life, paintings, and critical writings of Piet Mondrian, and an autocritical novella on the pleasures of myopia, detail, and objecthood.
Simone White is the author of Of Being Dispersed (forthcoming from Futurepoem Books), House Envy of All the World (Factory School/Heretical Texts) and the chapbooks Dolly (Q Ave Press, with the paintings of Kim Thomas) and Unrest (Ugly Duckling Presse, Dossier Series). She is a Cave Canem fellow and was selected as a New American Poet for the Poetry Society of America in 2013. She works as Program Manager at The Poetry Project and lives in Brooklyn, New York.
---
---