---
---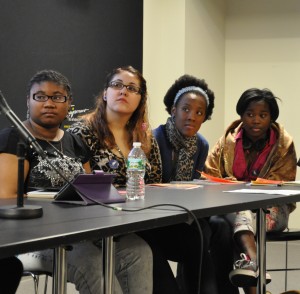 Thursday, April 2, 3PM
C-Level, The Graduate Center, CUNY
Last year, the all-girls publishing collective Raven Press from Academy for Young Writers High School was asked to participate in a panel on writing, editing, and publishing as pedagogical practices. There, we asked: How do self-expression and self-publication inspire community-building and inform a sense of personal efficacy? If we produce and distribute our own chapbooks, pamphlets, poetry, fiction, and nonfiction, are we taking charge of our own stories? Our own lives? This year, the founders of Raven Press prepare for writing – and life – after high school, while also training the next generation of teenage publishers to take the helm of their press. Come hear poets, publishers and educators Mahogany Browne, Alex Cuff, Adam Falkner, Camonghne Felix, Rebecca Gee, and Jon Sands carry the conversation with Raven Press forward. The discussion will be followed by a short open mic for students and educators alike. Representing Raven Press is Chris Bardales, Kari Henry, Jessica Michel, Lnette Smith, Ashaunte Solomon, and Tianna Wells.
Participant Bios
Mahogany L. Browne is a Cave Canem and Poets House alumnae, and is the author of several books including Dear Twitter: Love Letters Hashed Out On-line, recommended by Small Press Distribution & About.com Best Poetry Books of 2010. She has released five LPs including the live album Sheroshima. As co-founder of the Off Broadway poetry production, Jam On It, and co-producer of NYC's 1st Performance Poetry Festival: SoundBites Poetry Festival, Mahogany bridges the gap between lyrical poets and literary emcee. Browne has toured Germany, Amsterdam, England, Canada and recently Australia as 1/3 of the cultural arts exchange project Global Poetics. Her journalism work has been published in magazines Uptown, KING, XXL, The Source, Canada's The Word and UK's MOBO. Her poetry has been published in literary journals Pluck, Manhattanville Review, Muzzle, Union Station Mag, Literary Bohemian, Bestiary, Joint & The Feminist Wire. She is anticipating the release of several poetry collections in 2015: Smudge (Button Poetry), Redbone (Willow Books) & the anthology The Break Beat Poets: New American Poetry in the Age of Hip-Hop (Harcourt). She is an Urban Word NYC mentor, as seen on HBO's Brave New Voices and facilitates performance poetry and writing workshops throughout the country. Brown is also the publisher of Penmanship Books, the Nuyorican Poets Café Poetry Program Director and Friday Night Slam curator and currently an MFA Candidate for Writing & Activism at Pratt Institute.
Alex Cuff is a poet and teacher living in Brooklyn. She began teaching at Academy for Young Writers, a public school located East New York, in 2006 and started Raven Press with a small group of students in 2013. Her writing can be found online in Apogee Journal, Sink Review, Leveler and Two Serious Ladies and is forthcoming in 6×6 and the Poetry Project Newsletter. She's a graduate of the Milton Avery School of the Arts at Bard College and co-founding editor of magazine.
Camonghne Felix is an MFA Candidate at the Milton Avery Graduate School of the Arts at Bard College, a 2012 Pushcart Prize nominee, the 2013 recipient of the Cora Craig Award for Young Women and was featured on the HBO Documentary Brave New Voices, and other television projects. You can find her work in various spaces, including Youtube, and publications like Pank Magazine, Specter Magazine, Bayou Magazine with work forthcoming in Union Station and Callalloo Journal. She is also the author of the chapbook Yolk, set to release in Spring 2015 via Penmanship Books.
Adam Falkner is an artist, educator and scholar. He is the Founder and Executive Director of the Dialogue Arts Project, and an Arthur Zankel Fellow at Columbia University's Teachers College, where he is a PhD student in the English Education program. Twice-nominated for the Pushcart Prize, Adam's work has been published in a range of both literary and academic journals, and has also been featured on HBO, Michigan and New York Public Radio, Upworthy, in Time Out New York, the New York Times, and elsewhere. A former high school English teacher in New York City's public schools, Adam tours the United States as a featured artist, lecturer and trainer, and was the keynote speaker at President Obama's Grassroots Ball at the 2009 Presidential Inauguration. He is currently an instructor of English and Education at both Columbia University's Teachers College and Vassar College.
Rebecca Gee is an award-winning artist, poet and teacher. She co-founded The Writers Studio KW ("kids write"), a nonprofit branch of The Writers Studio, with Monica Banks & Phil Schultz in 2009. Gee serves as Director and Teacher for these innovative writing workshops for high school students at a community center in Bedford-Stuyvesant, Brooklyn. KW celebrates its 7th Anniversary this year and has grown to incorporate creative writing workshops for high school students with language-based learning disabilities. Her webinar "Teaching Creative Writing to Dyslexic Students" forced her to learn PowerPoint and is available at .
Jon Sands is a writer known for electric readings, and the author of (2011, Write Bloody Publishing). His work has been featured in The New York Times, published widely in various journals, and anthologized in The Best American Poetry 2014. He starred in the award winning web-series from Rattapallax Films, is the co-founder of, and a facilitator with the. He is a Youth Mentor with Urban Word-NYC, and teaches creative writing for adults at both Bailey House in Harlem (an HIV/AIDS service center) and the Positive Health Project (a syringe exchange in Manhattan). He tours extensively, but lives in Brooklyn.
Raven Press is:
Chris "Poetic Prince" Bardales is a 10th grader at Academy for Young Writers in Brooklyn. He's a poet, actor, rapper, entrepreneur, and political activist in the making. His first chapbook of poems was published by Raven Press in 2015 and is titled A River That Flows Forever.
Kari Henry is a senior at the Academy for Young Writers. She was born here in Brooklyn, but her family is from St. Lucia, so she identifies herself as a "St. Lucian American Brooklynite". She mostly writes poems, and in the past has written plays and short stories. She is a co-founder of AFYW's book binding club, also known as Raven Press. Through Raven Press, she published three chapbooks; Subject Matter (2013), Kari's Story Hour (2014), and a collaboration with Stephanie Martinez entitled Black and White and Read All Over (2015).
Jessica Michel
Lnette Smith is a 17 year old poet who lives in Brooklyn. She has created and published three books with Raven Press: Cracks in the Glass (2013), Fairytale Junction (2014), and Rock the Cradle (2015). Shes a senior at Academy for Young Writers and wants to study psychology and one day open up her own business.
Ashaunte Solomon is a writer who lives in Manhattan. This 17 year old girl has been writing most of her life and is all about poetry. She also likes to write short stories, read books, and play the piano. Ashaunte's first publication,a combination of poems, journal entries and short stories, is titled The Biggest Fool Of Them All (Raven Press, 2015).
Tianna Wells is a poet and a young writer. She has been writing stories and poetry since 2009 and expanded her writing skills throughout the years. She has a passion for writing and wishes to continue on her work from the teachings she received from Alex Cuff and Adam Falkner, Mahogany L. Browne and many other different poets. She began abstract painting in 2014 and wishes to continue on painting as well. Tianna's Raven Press publications include the poetry collection "Lil Angel" (2013), the short story "The Demon Life Part 1" (2014) and "The Demon Life Part 2" (2015). She is currently writing "The Demon Life Part 3."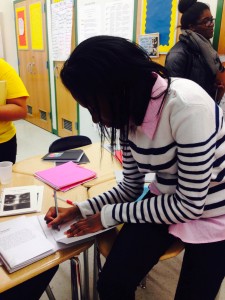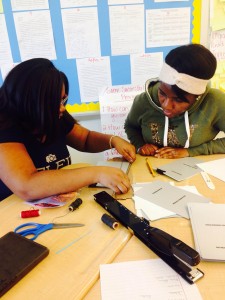 ---
---