---
---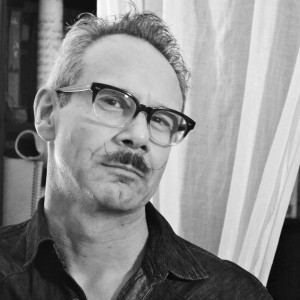 Join us on Wednesday, April 2 at 5PM for Rapid Fire: City Wide Fellows Reading at the Elebash Recital Hall, The Graduate Center, CUNY. Recipients of emerging writers fellowships (from Cave Canem, the Poetry Project, and Poets House) will share recent work in this hour-long introduction to these rising stars.
Guillermo Filice Castro is a recipient of the 2013 "Emerge-Surface-Be" fellowship from the . Read his poem, The Neighbor, below.
The Neighbor
I see her almost every morning
In the unflattering green pants of her uniform
The silver badge states
"Immigration and Naturalization Service"
And the rising eagle in the shoulder patch
Screams something in Latin
And does this elevator ride
Of merely three floors feel eternal
Almost every morning
She drives off the lot in a withered Ford
And her one-eyed poodle settles
In the passenger seat
Without as much a peep out the window
As I dart next door to
My illegal gig in my regal blue
Lido Spa Hotel T-shirt
And what the hell was she doing
At the front desk last week? Who knows
One day she might be at the head
Or rather the tail (Lady is clearly
Pushing retirement age)
Of the INS team raiding the premises
Where I've learned the Russian words
For "clean" and "dirty"
Where I wash the sheets of Jewish retirees
Who think I'm Cuban
And call me Billy
Guillermo Filice Castro is a recipient of the 2013 "Emerge-Surface-Be" fellowship from the Poetry Project. His work appears in Assaracus, Barrow Street, The Bellevue Literary Review, The Brooklyn Rail, Court Green, Fogged Clarity, Quarterly West, among others, as well as the anthologies Rabbit Ears, Flicker and Spark, Divining Divas, Saints of Hysteria, and more. His translations of Olga Orozco, in collaboration with Ron Drummond, are featured in Guernica, Terra Incognita, U.S. Latino Review, and Visions. In 2012 he was a finalist for the Andrés Montoya prize. He lives in New York City.
---
---