---
---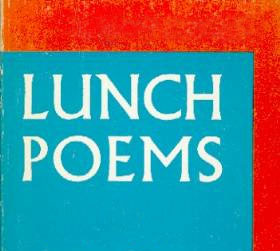 Thursday, April 2, 1:30PM
C-Level, The Graduate Center, CUNY
Recent recipients of fellowships from Cave Canem Foundation, the Poetry Project, and Poets House share their work in this lunch hour introduction to the rising stars.
Featuring:
Poets House: J. Mae Barizo, Vincent Toro and Stephen Boyer

Cave Canem: Adrienne Christian and Jonterri Gadson
Poetry Project: Miriam Atkin, Maxe Crandall, and Morgan Vo
Participant Bios:
Miriam Atkin is a writer and performance artist based in New York City. Since 2010, she has collaborated with artist Kurt Ralske on various multimedia experiments combining poetry with the moving image. Their 2011 artists' book, Rediscovering German Futurism: 1920-1929, accompanied a series of performative lectures which were presented in New York at ​The Poetry Project, Soloway Gallery and Spectrum Performance Space, as well as in Providence at the Empire Black Box Theater and the Granoff Center at Brown University. In 2013 the collaboration expanded to include improvising musicians Jonathan Wood Vincent and Daniel Carter, generating performance pieces which were staged at Outpost Artists Resources and Spectrum Performance Space in New York. Miriam regularly contributes art criticism to Art in America and ArtCritical, and her poetry has been published in the Boog City Readerand This Image journal. She is pursuing a PhD in English at CUNY Graduate Center and teaches writing and literature at Lehman College.
J. Mae Barizo is a poet and cultural critic, born in Toronto,. Her work appears or is forthcoming in the Los Angeles Review of Books, Boston Review, Hyperallergic, Paris Review Online, Denver Quarterly, among others. A classically-trained musician and a champion of cross-genre work, J. Mae has performed sound/text collaborations with musicians from The National, Bon Iver, and the American String Quartet. Her first book, The Cumulus Effect is forthcoming.
Stephen Boyer is the author of Parasite (2013), Ghosts (2010), and was a lead compiler of the Occupy Wall Street Poetry Anthology. Currently they're diligently working on a series of nature-related poems. Their work can be found online, in many zines and an assortment of publications.
Adrienne Christian is a Cave Canem fellow and a member of the Carolina African American Writers Collective. Her poetry has been featured in frogpond, Alimentum, Silk Road, Falling Star, Miller's Pond, Cliterature, and other journals. She is the recipient of the University of Michigan African American Alumni Council's Five Under Ten Young Alumni Recognition Award. She is the author of 12023 Woodmont Avenue, a coming-of-age poetic memoir.
Maxe Crandall's first chapbook, Together Men Make Paradigms, was published this summer by Portable Press at Yo-Yo Labs. The play premiered at the Hot! Festival at Dixon Place. A 2014 Poets House fellow, Maxe teaches in the undergraduate writing program at Columbia University and is at work on a critical biography calledGertrude Stein and Men.
Jonterri Gadson is the author of the chapbooks, Interruptions (MIEL, 2014) and Pepper Girl (YesYes Books, 2012). She is the recipient of scholarships/fellowships from Bread Loaf, Cave Canem, University of Dayton and the University of Virginia's Creative Writing MFA program. Her poetry is forthcoming or published in Los Angeles Review, Callaloo, The Collagist, PANK and other journals. She is an Assistant Professor of English/Creative Writing at Bloomfield College in New Jersey.
Vincent Toro is a Sorta-Rican poet, playwright, and educator living in The Bronx. He holds a Master of Fine Arts in Creative Writing from Rutgers University. Toro is a Pushcart Prize nominee, a finalist for the Allen Ginsberg Poetry Prize, recipient of an associate artist residency with the Atlantic Center for the Arts, and a member of The Macondo Writer's Foundation. His poems have been published in Word is Bond,Rattapallax, Vallum, Bordersenses, Kweli Literary Journal, The Buenos Aires Review, and in the anthologiesColoring Book: An Anthology of Multicultural Poems and Stories, CHORUS and The Waiting Room Reader 2.
Morgan Vo​ was born in Norfolk, Virginia, in 1989, to a Vietnamese father and an American mother.​ He moved to New York in 2​008 to attend the Cooper Union, where ​he​ studied in performance and design, graduating in 2012.​ He has published work in The Brooklyn Rail and Pelt. He puts out paper giveaways under New Pinky and lives in Bushwick, Brooklyn.
---
---