---
---
Monk Books (Ben Pease and Bianca Stone) is a small press, publishing high-quality chapbook- and full-length titles that often combine poetry and art. For more information visit them at:
Monk Books will have two new chapbooks out in time for the 2013 CUNY Chapfest:
NOTES ON MELANCHOLIA by M. A. Vizsolyi
Bio: M.A. Vizsolyi's first book of poems, The Lamp with Wings, was a National Poetry Series selection. His poems appear widely in journals, including Ploughshares, Gulf Coast, Ninth Letter, and Pleiades. He teaches ice hockey and ice skating lessons in Central Park, and lives in Brooklyn.
"Vizsolyi writes in the voice of the wounded and the wondrous, reminding us that passion is the fruit of suffering one's desire." —Eliza Rotterman,
"His surreal anacoluthons follow one another so closely, so insistently, each poem is a tumbling game where syntax and language easily fall into various complementary meanings." —Kent Shaw,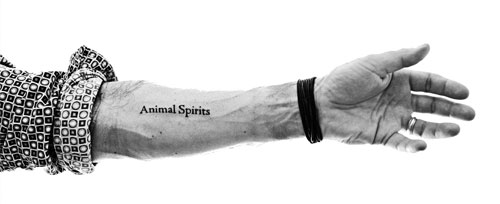 ANIMAL SPIRITS by Tom Healy
Tom Healy's Animal Spirits follows his much-praised poetry debut, What the Right Hand Knows (Four Way Books 2009). The book is a collaboration with celebrated artist Duke Riley. Pairing Healy's intense, diamond-hard poems with Riley's drawings of animals in the throes of ecstasy, affliction and bestiality,Animal Spirits brings the world of raptorial desire out into the open, blurring, even bruising, the lines that divide us from animal. The poems in this new book range from recollections of life on a farm to the writings of a dying grandmother to the heights of Everest, tracking Healy's (read our) experience of the precarious, the provisional, and the immaterial terror that daily couples with our thrill and wonder at life on earth. As Richard Howard said of Healy's earlier collection, there is a "certain sorcery" to Healy's work that makes it "a pleasure at once sumptuous and cost-effective, precise and loving." In the tight, but generous economy of these poems, Healy works his eloquent sorcery on the crude but complicated facts of human desire. Animal Spirits conjures a complicated world of emotion in which we are stung by pain even as we are stunned into joy.
---
---